OK. We got our Pondcam all in the case. It is pretty permanent. I technical can pull of that top and still get at the camera with a lot of effort and cleaning afterword (Goop does come off plexiglass and plastic pretty well, but it takes some work). Let's hope we don't have to take that top off.
My brother Paul is coming over and I need to help him with a computer issue he is having so I need to kill some time without making any real progress because I want to rope him into helping me with the camera (He is an IT guy too and very technical). So I think I will start with this mess.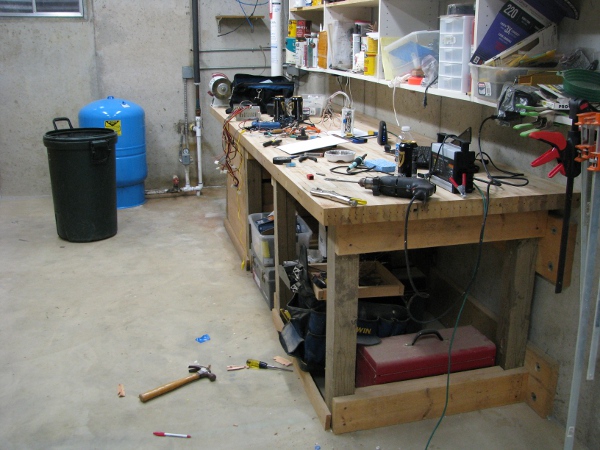 You know the drill by now. Everything gets put away except the stuff we need for our place in the project. I can put the charger in the garage we are done with that for now. The drill can go away. I can put the soldering iron away, we don't need so much of this stuff because we have come really far.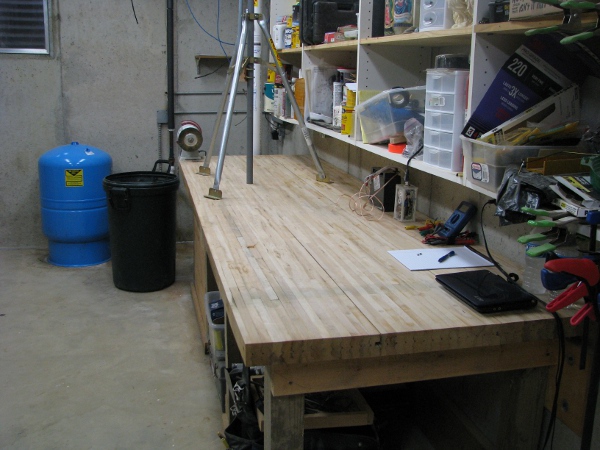 That is much better. I brought in the mount for the camera because we are going to need it. Paul still isn't here so I decide to go to the hardware store. I have three things on my list:
1) I want to see if they have some sort of waterproof sealant. I plan to do some underwater testing today, but after we are done I would like to spray it with something to give it a final coat of protection.
2) I need more solder. We have like less than an inch left. We shouldn't need it anymore, but I hate being out of solder.
3) I want to get a new socket 9/16ths. I didn't write about it, but it is the most popular one to use. It is good for bikes, a lot of nuts and bolts on my tractor. And because it is the most popular that is the one that is always gone. I know it is around, but I couldn't' find it so I want to get a spare (I can blame this on my wife because my six year old just started riding without training wheels, so she put it somewhere and I have no idea where to look).
Now when I go shopping I ask my kids if either of them want to come with. To my surprise my two year old wants to go and my six year old wants to stay home and wait for Paul and his kids to come over. It is usually the other way around. So I am happy, me and Cordie get in the car and head over to Ace.
Cordie and I don't get to spend a lot of time together so I decide to spend as much time as possible at the store. I go through every single isle that may have some long shot of what we will need. And it paid off. Here is what I got.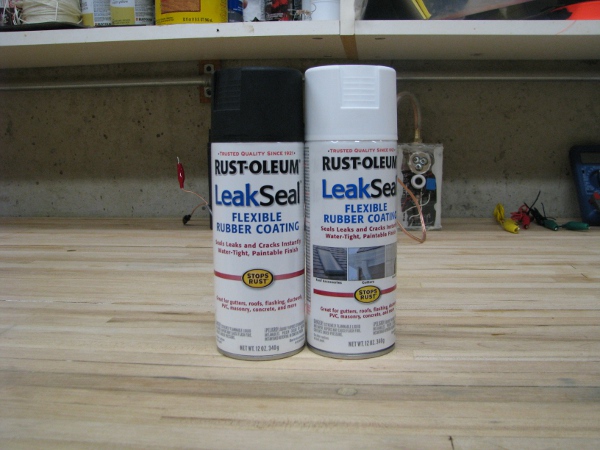 This looks pretty good to give our camera a final coat. They had three different colors; black, white and clear. I definitely don't want clear because I want to cover up all the ugly. I wanted the sealant to be dual purpose: First – waterproof, Second – makeup. I am totally on the fence about white or black. Would black scare away the fish? Would white be better? I have no idea and will decide later.
While wandering through the store I also saw this.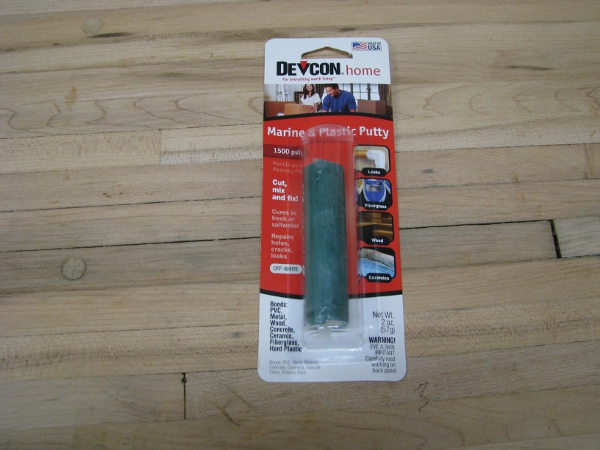 This type of epoxy is different as you roll it together like a putty. If this plexiglass case works well I may want some of this to make another one. The epoxy I am using now got all over the place.
And I totally need some of this.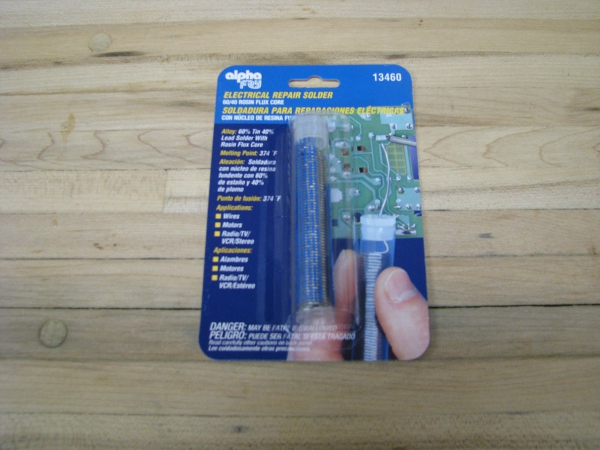 More solder and something else we need.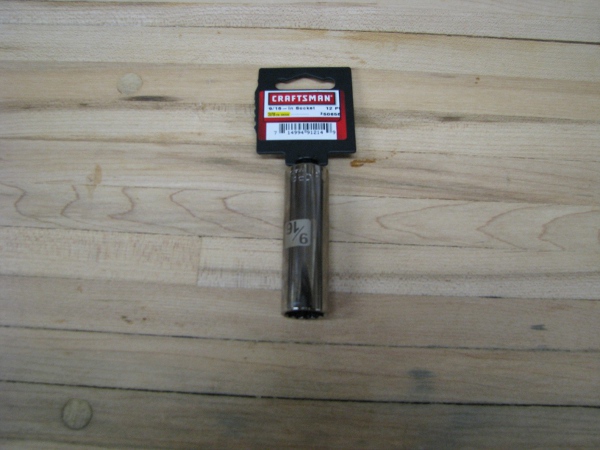 We really need a way to fasten the camera to the base of the mount easily, I hated doing that with vice grips and I am not sure what to do about securing our camera to the base so I got some of these.
They look like they will work. I have a need to make that camera and the light more level, but the case is closed so I bought one of these. I will explain what I plan on doing with when I get to that part.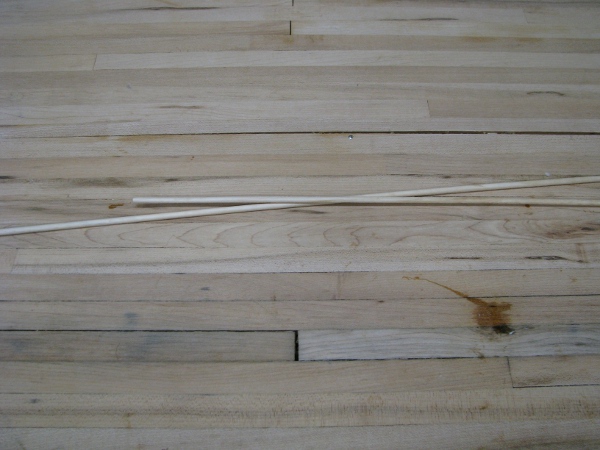 Now it is hard to see but those two sticks are actually perfectly round. I am not sure the size. It used be be one piece. I let Cordie play with it in the store, she didn't break it. It ended up getting broken in the trunk, I am not sure why, but it doesn't matter. I plan to cut it up anyway.
As Cordie and I were wrapping things up at the store I found these.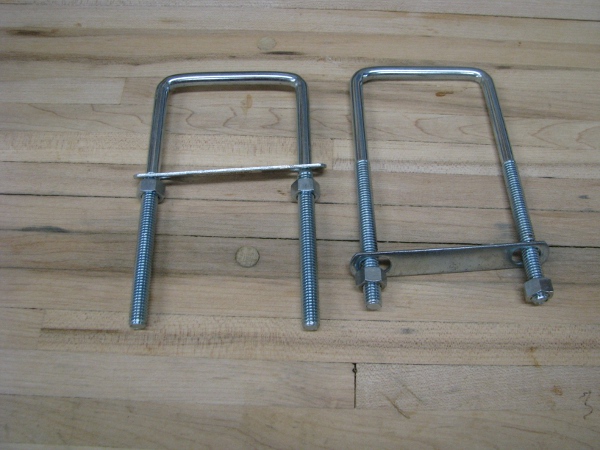 They really do look like the right size so I bought them. I have no idea if these will work as I didn't measure them. If they fit, I will mount these to our center pole to attach our camera. I am thinking, "Yes I totally need this because what if a big fish gets mad at the camera some day and wants to eat it? These will hold it solidly in place"…. If they work.
Time to start getting stuff put together so we can continue (Paul still isn't here, but I don't care… Pondcam can't wait). I want to mess with those brackets and bungees we bought to mount the camera securely to the pole.
Interesting note. After I got back from the store, I saw this by a workbench in the garage.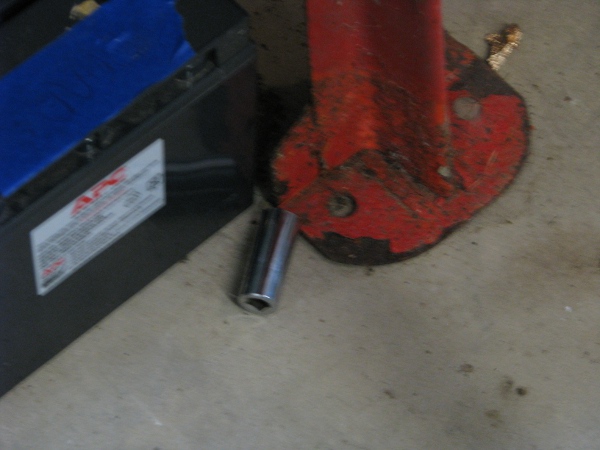 That is my missing 9/16ths. I grab that one and use that. I put the new one in my socket box. Now on to the camera. I set it up and tighten all bolts to make it secure. I fasten the camera with both the bungees and our brackest to see if any of them work. Here is what it looks like all put together.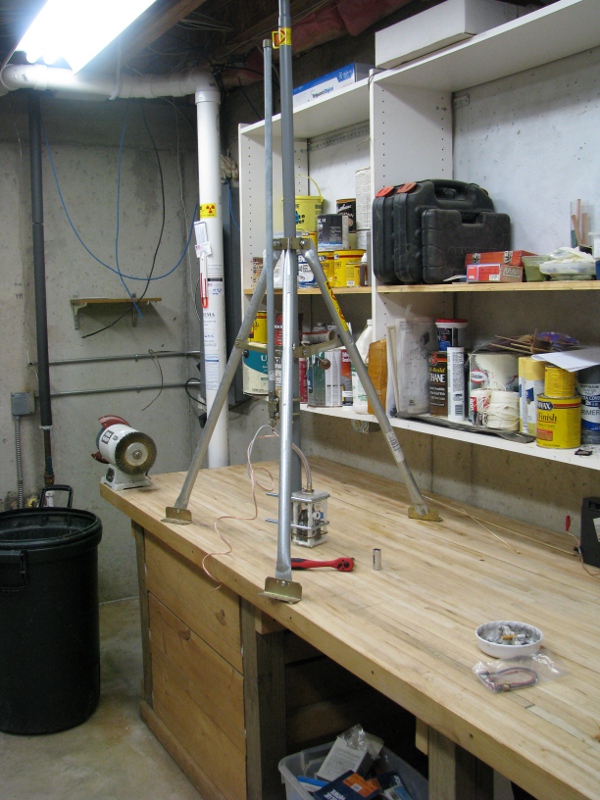 To my surprise they both worked very well. The brackets especially. I won't need the bungees. Here is a close-up.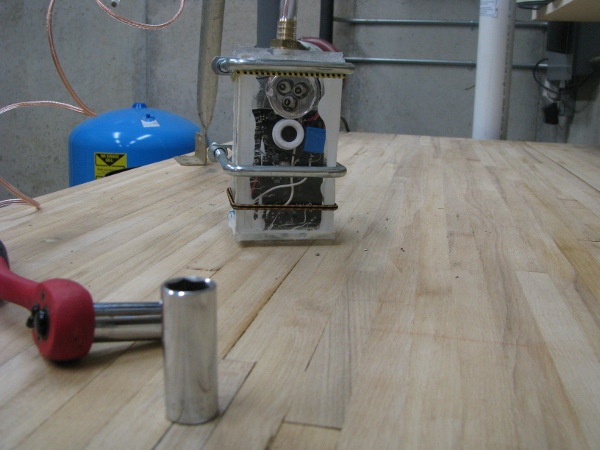 Oh… I almost forgot there is something still in my car from the hardware store. I bought one of these.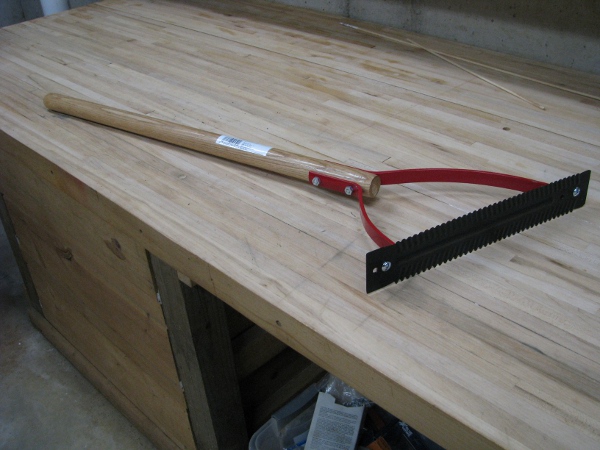 I know you are thinking, "What is that and what do you need it for?". I can't remember what it is called, but today I will call it a "manual weed whacker". If you ever used one you will know how handy they are, you swing it like a golf club in thick weeds and it trims it all down to the ground. Why I need one is this.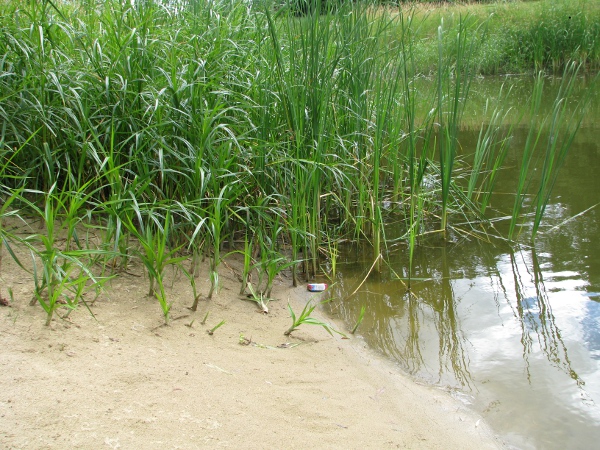 In the picture above I an to put the camera right in the upper left. The problem is that I will have to mess around through this, unless I can cut it back.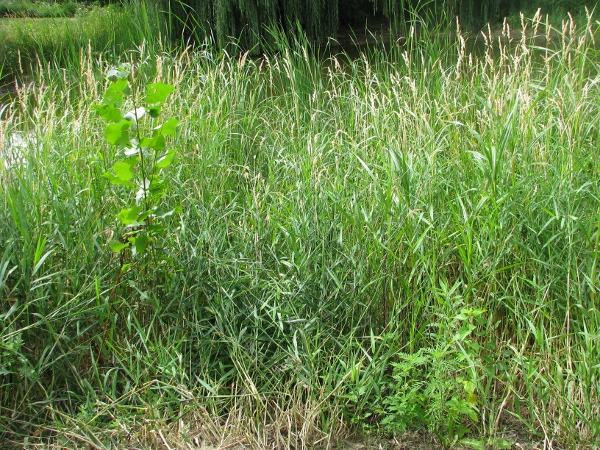 Eventually I hope to make short work of the above picture with my terrible golf swing using a "manual weed whacker". I do have a real weed whacker, but from what I remember from my pre-teen years a manual one is what we want for this.
Paul still isn't here and I really want to sink the camera today. I have to think of something more to do before he gets here. I have an idea of how to test it in water before he gets here. To test it in water I need some room underneath the base of the camera in the mount. You will see why in a minute. For now I just raise it so that it is no longer touching the ground.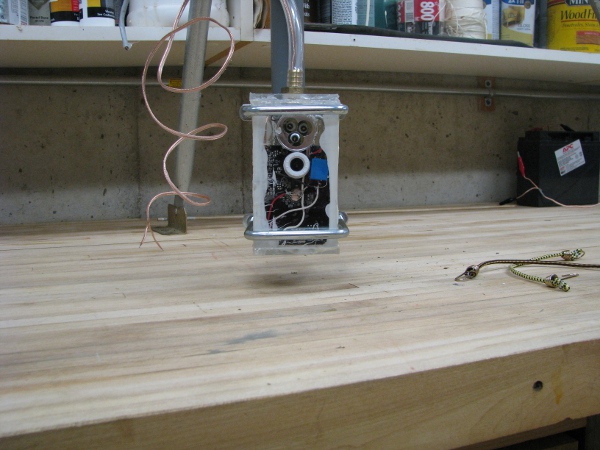 Hooray… After I do this Paul shows up. I get him to help. We pull some tables out and fill up my fish tank with water.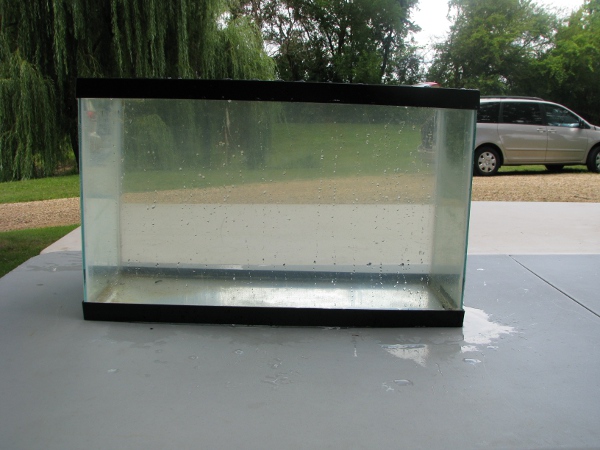 My plan is to just take the camera and its mount and place it over this and look for bubbles. Here is what the camera looks like next to the tank.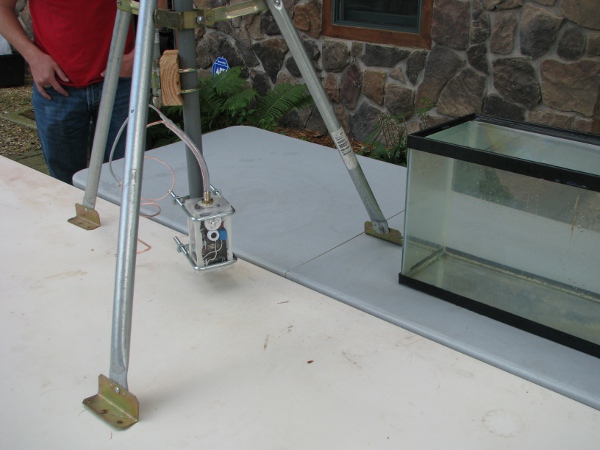 We anxiously lift it into the tank and look for bubbles.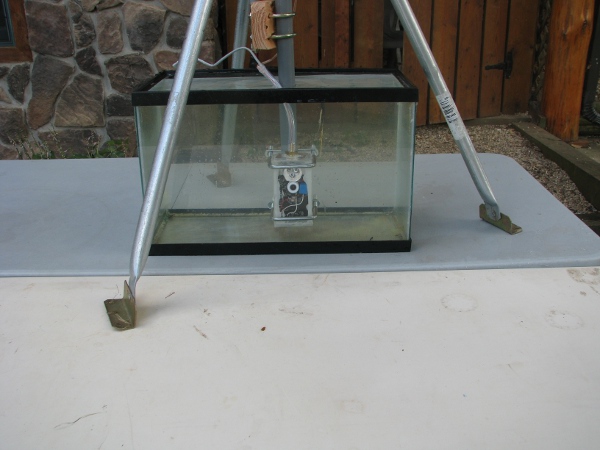 No bubbles. Let's turn it on!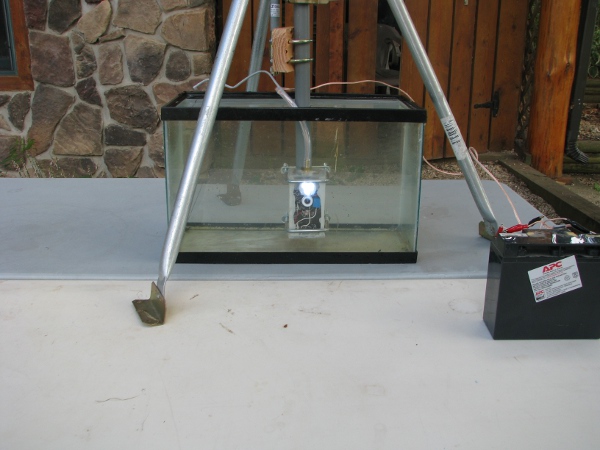 '
This is a problem I wasn't expecting. The light is on and stays on. The problem I can see right away is that it is too bright outside. It is cloudy today, but there is still way more light out here than in the basement. I never tested for that. Looks like it will be "BLACK" for our waterproofing / beautifying session with the rubberized spray I bought at the hardware store. So I am not going to worry about that now, I am going to bring out the netbook and take a look.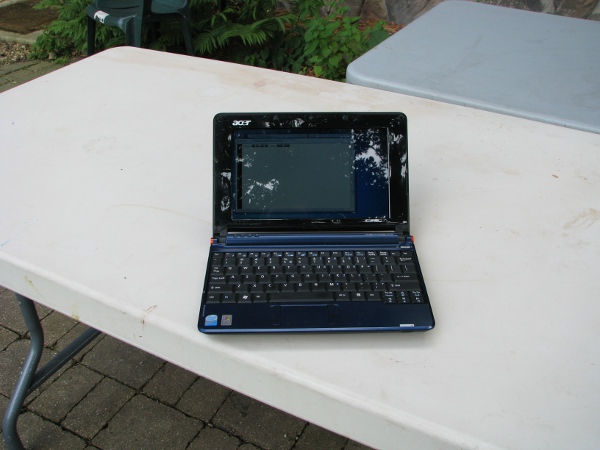 It is tough to make out, but it is the whole "no picture" issue. I am stunned that it is doing this. Paul and I are both trying to figure it out and try so many different things. I can't possibly post all of the troubleshooting that went into this because it will be up to 4AM and still not be done. Since I have to go to Mass tomorrow I will sum up and say that there was a setting in the software called "anti-flicker" that seemed to be the trouble. When we were outside it was so sensitive to light that it just washed everything out in white. I don't know why antiflicker would do that, but it is probably in the manual that I didn't read except for getting voltage and current. All of the panic and troubleshooting in Post 2 was probably not necessary.
After we got that ironed out we did put the camera in the pond for fun to see if it would work at all. Here is a totally embarrassing shot of what it looked like.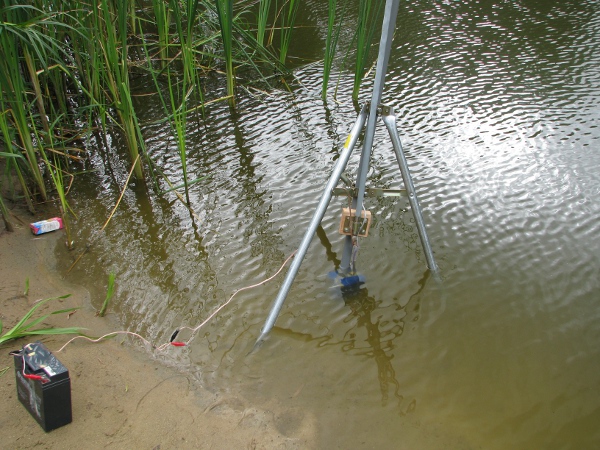 When it was there I went up to my desk to see if we could see anything and it was the same old thing. Just a whole lot of nuthin'. I did notice today the pond was so cloudy I couldn't imagine seeing anything in that water. I am clearly have to have two places for this camera, one that is in the pond and another that is over the pond.
We did more tests and realized that we just didn't have good wireless connectivity. It is the middle of the summer and my pond gets low. It pretty much follows the water table. This spring the pond actually was all the way up to the beach and almost touching the driveway. Paul said we really need to get the antenna of pondcam higher. I agree. Here is a picture of our last connectivity test that was no good. The antenna is far in the distance behind those green chairs on the beach.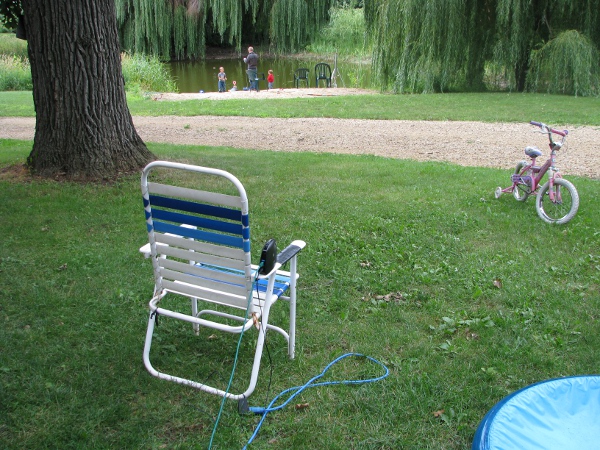 Our access point has been brought out as close  as our Ethernet would allow us. Still nothing! I don't understand this, as we should have really good connectivity.
OK.. We have to settle this connectivity thing. Let's see what we have. I don't know if you noticed in a lot of those pictures of our wireless access point. But there is an interesting thing about it. Let's look at it more closely.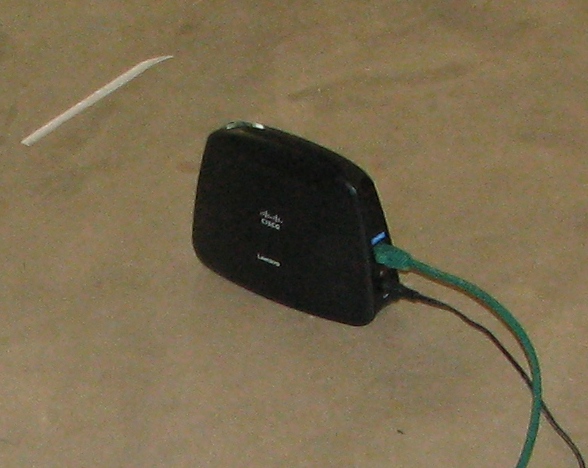 Yep.. That is right, no external antenna. I want to put one on it. But I need to see if I have one. Let's look in my wireless bin.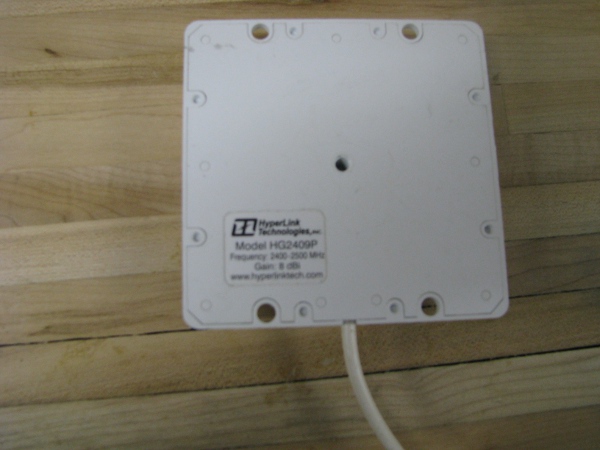 Oh… That is right… An 8dbi wireless antenna. Let's connect this to our access point. I know what you are thinking, "You can't connect that to the wireless access point, there are no external connections". I don't care. I have a feeling I can put it on one way or another.
I try to bust open the case, Paul gives me some song and dance about FCC and how you are not allowed to attach high gain antenna's to 802.11 devices and how hard it is, blah… blah…blah.. I don't care. After some work I get the case open and what do I see.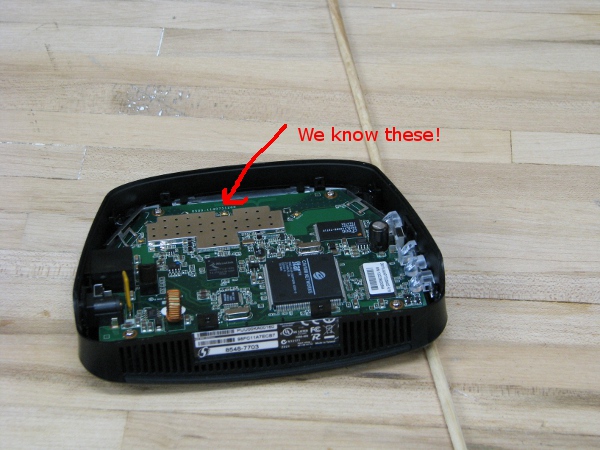 Those are the same little connectors we had to deal with in the camera. After some soldering, cutting a hole in the top and  really having a hard time with that connector we end up with this.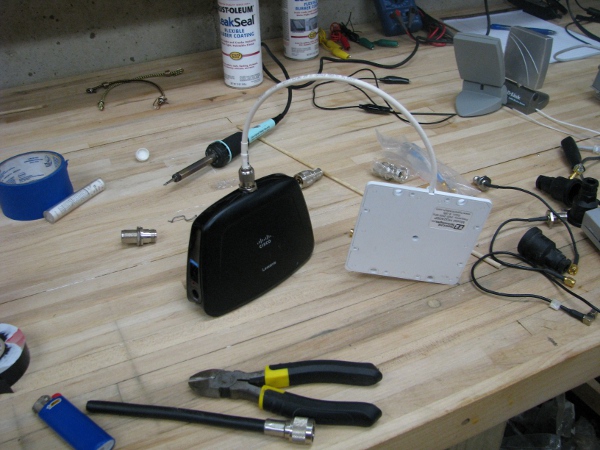 Now that antenna is a directional antenna, so it focuses all of its power on the face of it toward where you are pointing it. I mount our new antenna back at the garage window and point it at the pond.
What about our pondcam antenna? It is too low because the pond is so low this time of year. Well lets do something about that too. I have this.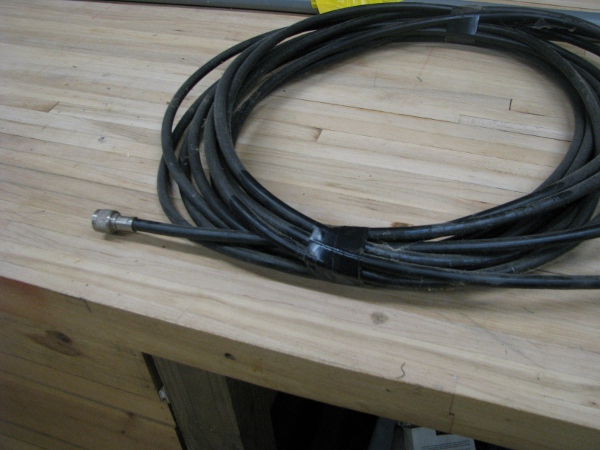 Oh and we need to get that antenna to our camera as high as possible, I have this too.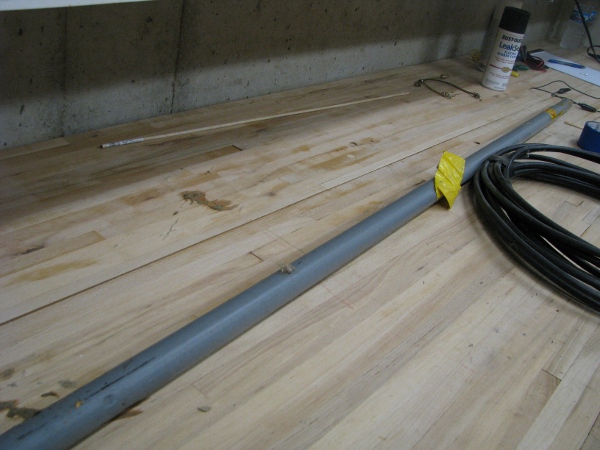 That is an extension for the roof mount for our antenna. Let's put this together in the same way I attached it to my old house to give my neighbors free wireless.
Note: When I was first married I was mounting this on the roof of our old house. I didn't want to bolt it to the roof because I wasn't sure if I would cause a leak so I used cables to the edges of the roof. Something happened and one cable slipped loose and everything came tumbling down off of the roof, inside the house the sound it made was really loud. We were newlyweds at the time and she thought I had fallen. The expression on her face was a learning moment for me. What I leaned was, I had someone that cared about me a ton and needed me, be careful and don't kill yourself doing something stupid. Lesson learned. I don't even need a ladder with my pondcam project. Oh… And bonus… The solar panels and batteries won't kill me unless I eat them (I do think I could eat the solar panels and not die, the batteries on the other hand would definitely kill me).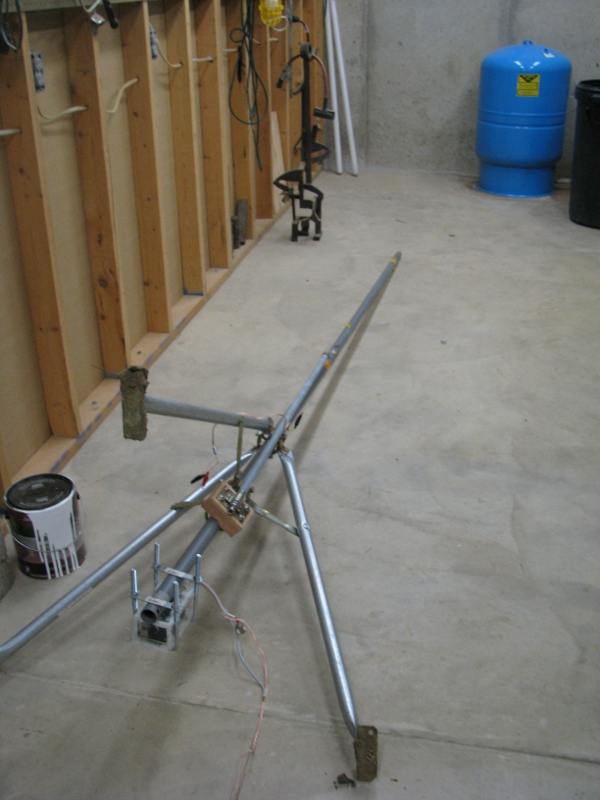 That will be about 10 feet or so which should allow a way better connection. When I go to move the bracket and antenna to the top I see this.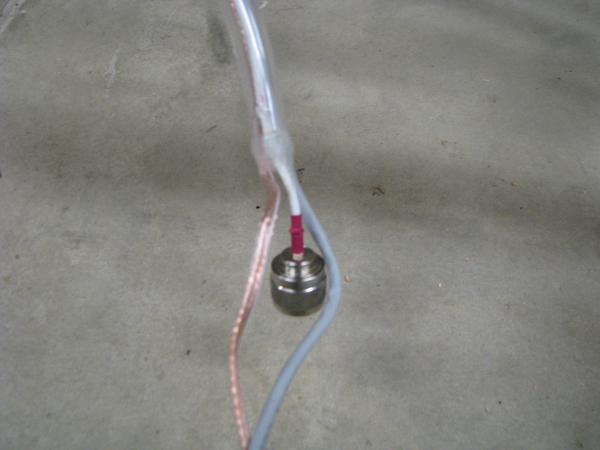 See that little crink in the red coating around the white wire? That end is about to break off. I make a note that I have to fix that (It actually did break off when I brought the camera to the desk later on). That actually may be all of our issues with connectivity. That connection isn't meant to be roughhoused like we have been doing. I need to solve all of these connection issues, I find all of the new connections we need and replace this one with one that would be better for this application (I have adapters that let me connect things in a low signal loss way). I get the antenna moved to the top of our pole and clean everything up.
Note: I did take a lot of pictures of me putting ends on a couple of new cables. It was a lot of work, but documenting little things like that today is really hard. Here is a summary without pictures: I made one cable for our antenna, but I replaced the broken camera antenna adapter with a different one that we can mess with more. I have an adapter that will fit it to two cables that can reach our antenna. One is really thick and hard to work with, but will have less signal loss, the other is perfect for our purposes, but may not work as well. If you see different cable going up to the antenna in future pictures I will be messing with both.
I will show you one more picture though of our cables. I have one very thick cable with little loss that is hard to work with, then I have this one.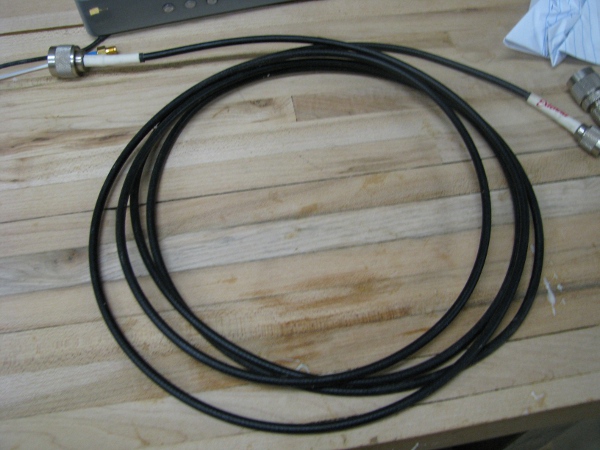 Nice and flexible. I think I may like this one better.
That is all for now… It is 1AM. I totally learned a lot today thanks to Paul being here. I would never have messed with that video part of the software without his help. At one point he said, "Before you open the water proof camera lets troubleshoot it a bit… I have a webcam at home that has some video settings". That saved the day.  I totally was thinking lack of power was causing our trouble with the "no picture" but it was a setting in the video. It still doesn't make sense to me that changing the "anti-flicker" setting would have fixed that washout issue we were seeing.
I did more this evening, but that will be for another post. Sorry… I so wanted to show a picture of the pond. This post reminds me a lot of post 2. I hated that post. It seems like every time I try to bring the camera out to the pond it doesn't work. Grrr!
To continue reading see post 9.