OK… Se have our PC. We built that a few days ago. All the parts came in yesterday for the 3D printer. Here is a picture of the girls opening the boxes and pulling everything out.
I am laughing to myself taking this picture. They have no idea what they are building, but they are dividing up the individual packages and saying, "This is mine", "oh and this is mine". They have no idea every single part does nothing by itself, it all needs to be put together to do something for them that will blow their minds.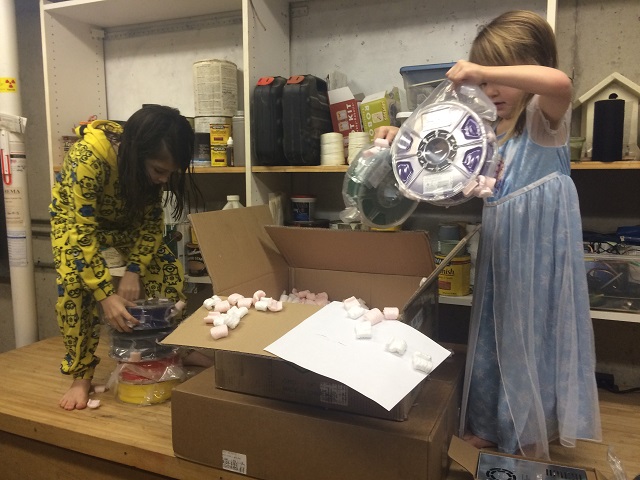 As it starts coming out of the box I am seeing just gobs and gobs of stuff. They were just so many parts and the girls were going a little nuts and I started thinking that there is NO WAY they are going to be able to help. I mean look at this… They will lose something or break something.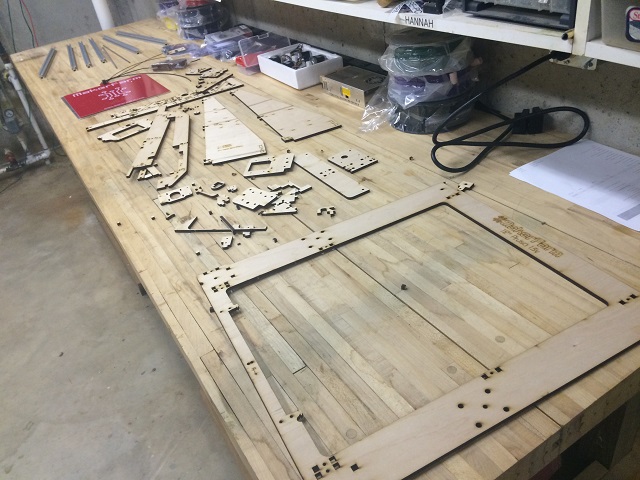 I got the girls off to bed and decided I would take a look at the directions for putting it all together. https://drive.google.com/file/d/0B80A_woXoRWdd2xBUUJSdzRCT2c/view
After looking at the directions I can see how we are going to pull it off. I can see the very first step is to do the "X Motor Assembly". I am going to pull all of those parts out tonight and take them out of the workshop and put them into the workdesk in my office (The work desk is a desk right next to my computer that the kids like to play at while I do my normal  work).
So… I print up pages 7-11 of the (104 page) manual which the girls can follow to build the X Motor Assembly. It has tons of pictures, so I am sure the girls will do fine with it.
Then I go to the workshop and gather the following from the parts list:
1 Set of X Motor Wood parts (Pictured Below)
4 x M3x16mm M3 Bolts
4 x M3 Nylon Lock Nuts
3 x Pre Assembled Delrin Idler's (Black Wheel)
1 x M5 Washers
3 x M5x30mm Bolts
3 x M5 Nylon Locknuts
4 x M5x12mm Bolts
2 x Aluminum Standoff
1 x Eccentric Spacer
4 x T-Slot Nuts
Here is a picture of them so you can see what it looks like. I am sure the girls can do that part. They probably wont need much help either.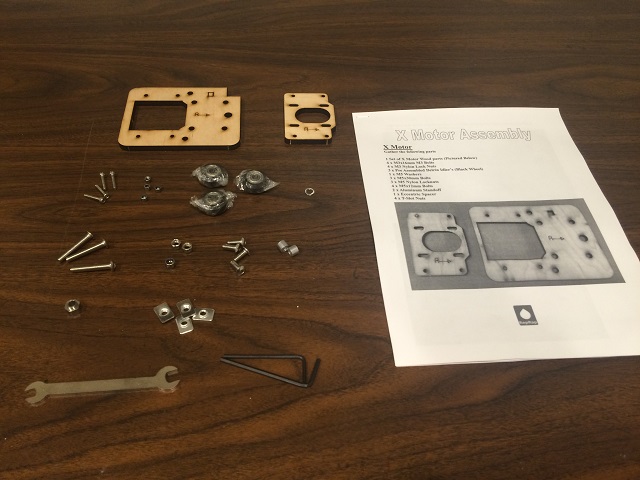 So that looks like a pretty small job for Hannah to do, instead of having them both work on that, I just move on to the next step so Cordie has something to do. I get the parts for for the "X Idler Assembly":
1 Set of X Idler Wood parts (Pictured Below)
3 x Pre Assembled Delrin Idler's (Black Wheel)
2 x MR125 Bearings
3 x M5 Washers
4 x M5x30mm Bolts
3 x M5 Nylon Locknuts
1 x M5 Nut (Regular)
4 x M5x12mm Bolts
2 x Aluminum Standoff
1 x Eccentric Spacer
4 x T-Slot Nuts
Here is the picture: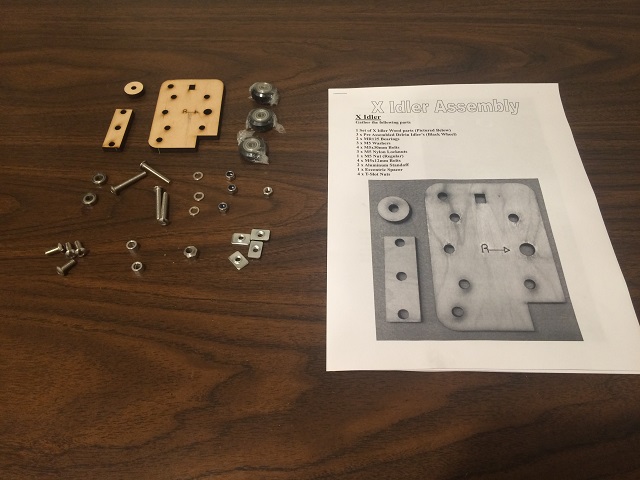 I must admit. I am impressed with this manual. When I first opened that box I was feeling a little sad, like the girls wouldn't be able to help, but after looking at the way the manual is organized it is all broken up into little steps even kids can do. I have a feeling this is going to be really fun. After Mass tomorrow I will have the girls build those two parts and then we will see what is next.
__________________________
OK… It is now 1:02AM and I must confess. 2 hours ago my wife went to bed and I got bored so I worked on the curriculum. I realized that there are several problems with documenting this project the way I started. First there is NO WAY anyone is going to be interested in an 8 year old and a 5 year old building a 3D printer if I have to do a play-by-play like I started. In the last two hours I printed up the entire manual for building it. I then stapled each section together in order. Then I went upstairs and grabed a box of sandwich bags. Finally I went through ever page and put all the parts in separate sandwich bags and ordered them in a row so the girls can just crank through them as quickly as an 8 and 5 year old can (I will be helping them of course). Here is the culmination of all of my work tonight.
The following pictures are my neat and tidy "little projects" that will eventually bring us to a working 3D printer built in the good old USA by my girls.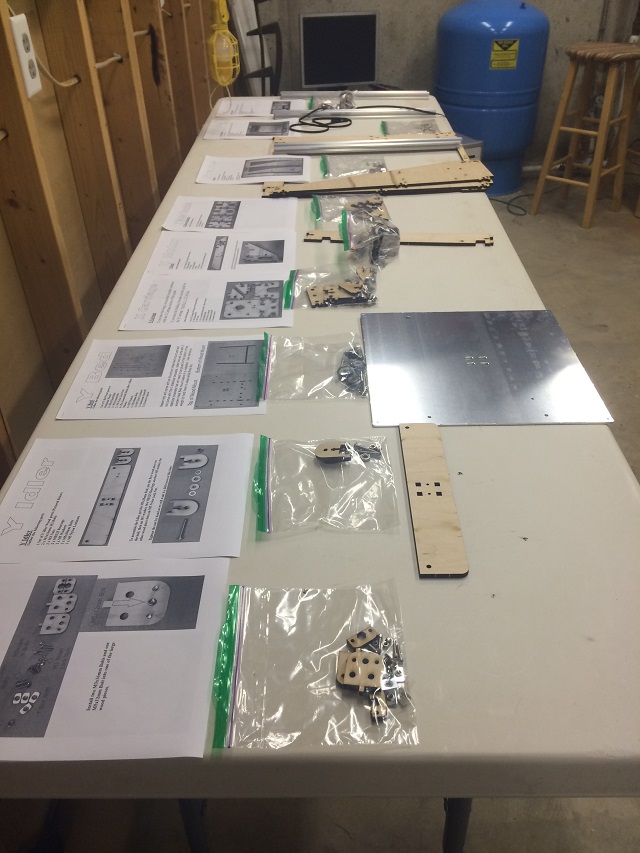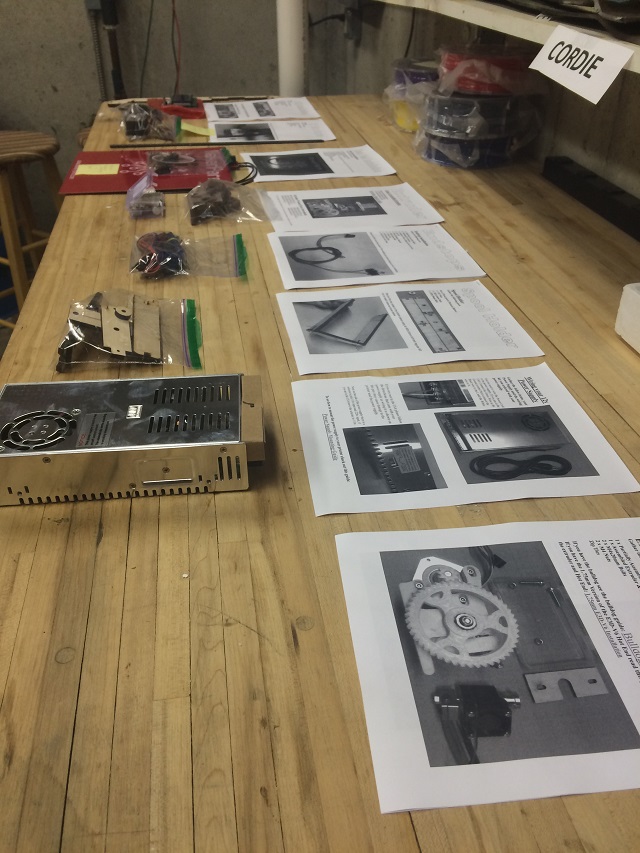 This whole exercise makes me think, I have to teach them that when something is built in the United States these days it is a big deal. That will be important for them to know.